Our Story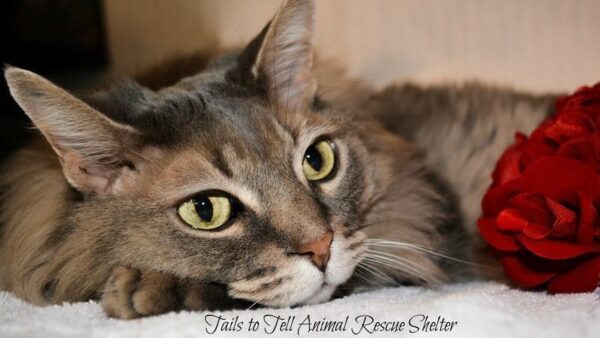 Our story begins with Edna Jackson, who opened her Critter's Pet Supply shop in Crossfield in 2006. Soon after, she rescued a local stray and let him live in her store. His name was Thomas, and he is now our mascot.
Over the next four years, Edna took in all manner of animals who were dumped literally on her door step. From dogs tied to her door after hours, fish left behind during a move, to even a small kitten tied up in a plastic garbage bag left at her door step – Edna saved them all.
The need for an animal shelter in the Crossfield area was apparent. Edna reached out to the community, friends and family and soon Tails to Tell Animal Rescues Shelter Ltd. was born. We opened our doors in September of 2010.
Tails to Tell is a registered Alberta charity (Reg. No. 852483312RR0001) and has a Board of five volunteers who oversee the operations of our shelter, work with committees, as well as plan for the future. Our shelter is operated solely by volunteers; there are no paid staff – except for our Summer Student Program and Internship Program, which places student interns in the Summer who are supported by either a Canada Summer Students Grant or a Work Experience program. Our volunteer run operation means that 100% of all funds received goes directly to the care and housing of our cats. These volunteers govern, plan, care for residents, maintain the shelter and raise the much needed funds to allow us to continue our efforts.
Since opening, over 4500 animals have been helped, and hundreds more continue to be helped each year. Any numbers stated for a year do not include animals found and returned to their owners. Thanks to our wonderful supporters who not only supply monetary donations, but also dedicate their time volunteering and their homes fostering needy animals.


Tails to Tell Board & Coordinators:
Edna Jackson, Board Member

Donna Ebeling, Board Member & Fundraising

Anita Helmer, Animal Care Coordinator
Colleen Holden, Board Member & Financial Secretary

Michele Jacobsen, Board Member, Internship Programs & Website Coordinator

Claire Prevost, Volunteer Coordinator
Donna Pearce, Board Member & Foster Coordinator

Lara Beatty, Board Member & Facilities Program